At Webster University, we embrace all human differences while building upon our commonalities as people. Diversity and inclusion initiatives should serve to eliminate discrimination and exclusion based upon the following: race, creed, national origin, religion, color, ethnicity, age, gender and gender identity, sexual orientation, socioeconomic status, disability, or military status.
Our Promise
Committed to Social Justice and Racial Equity
There's a place for everyone at Webster. We believe a diversified community leads to an increase in creativity, decision-making, and an appreciation of different perspectives. From our Diversity, Equity & Inclusion Advisory Council to our working groups and sponsored events, our University is committed to inclusive excellence and prioritizes collaborative initiatives. Each of our efforts are curated to achieve sustainable and significant community-wide transformations.
49%
of graduate and undergraduate students are BIPOC (Black, Indigenous and People of Color)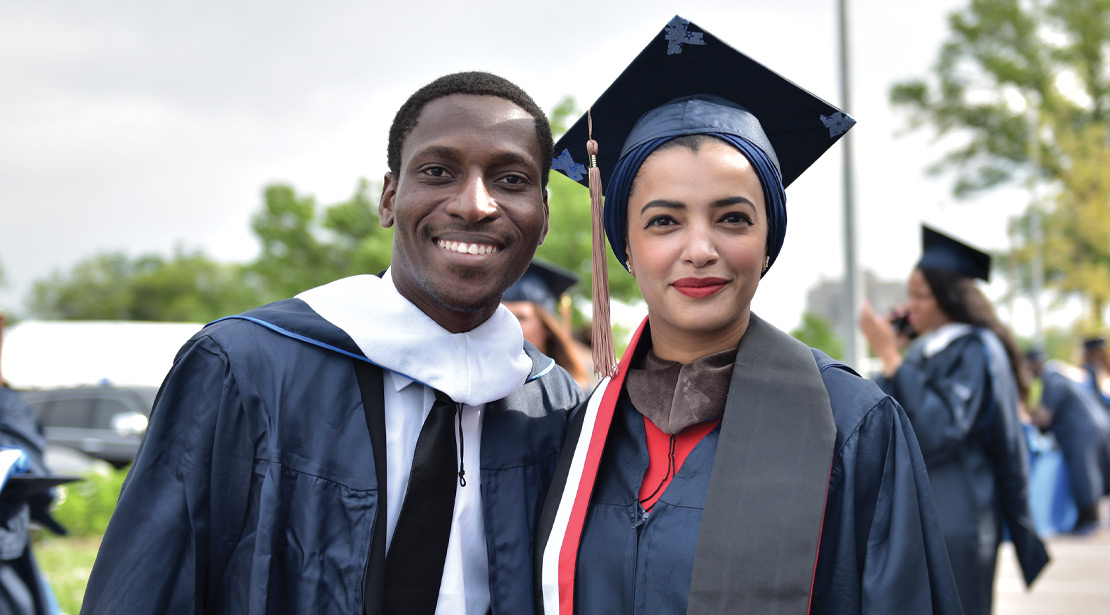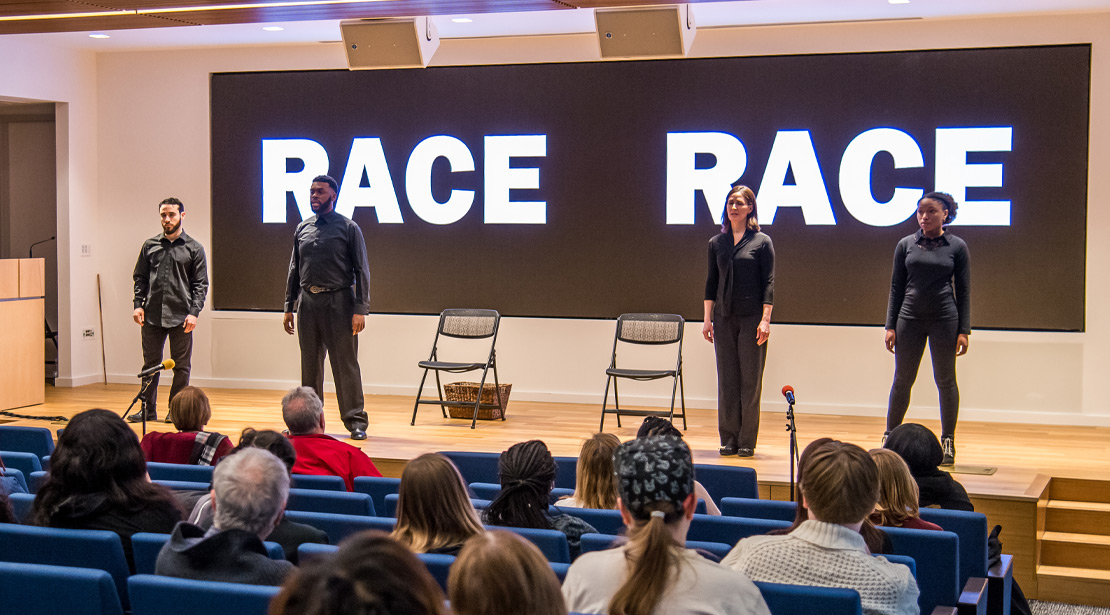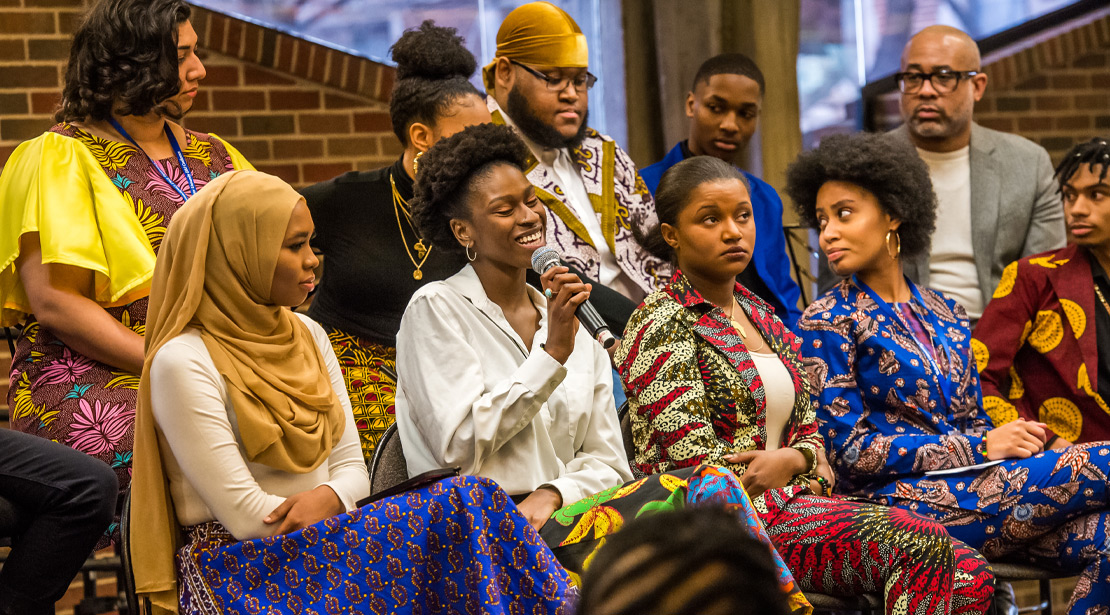 Our Diversity and Inclusion Statement
For us, diversity and inclusion are more than meeting a goal or focusing on a specific representation with a combination. It involves expressive dialogue and offerings of distinct talent, thought, and inquiry from individuals from various backgrounds. We recognize that diversity and inclusion cultivate academic excellence. Our University also understands the success of each individual strengthens the community.
Our Inclusion Pledge
As a member of the Webster University community,
I promise to consciously promote acceptance and demonstrate respect.
I will dedicate myself to actively listen to each person's story.
I promise to learn from and embrace differences among identities.
I will recognize commonalities and shared experiences.
I will practice inclusive language and be open to learning.
I promise to educate others to foster an inclusive community that treats every person with dignity and respect.
I will honor this commitment in my classes, workplace, personal life and all other pursuits on and off campus. I pledge to make everyone feel safe, valued and part of our global community #WeAreAllWebster.
| | | | |
| --- | --- | --- | --- |
| Race/Ethnicity | GRAD | UNDG | Grand Total |
| American Indian or Alaska Native | 0.3% | 0.3% | 0.3% |
| Asian | 4.4% | 3.6% | 4.2% |
| Black or African American | 38.4% | 15.9% | 32.7% |
| Hispanic | 9.3% | 6.4% | 8.6% |
| Native Hawaiian or Other Pacific Islander | 0.3% | 0.0% | 0.2% |
| Two or more races | 2.7% | 4.0% | 3.0% |
| White | 44.6% | 69.7% | 50.9% |
| Grand Total | 100.0% | 100.0% | 100.0% |
Total Student Statistics
| | |
| --- | --- |
| Domestic UNDG | 3,206 |
| Domestic GRAD | 9,322 |
| Domestic Total | 12,528 |
*Federal data sources, as reported by the Integrated Postsecondary Education Data System (IPEDS), allow measures of institutional success in graduating students in a six-year period, with gaps identified between overall rates and African American students as well as white-African American graduation gaps. These data are reported for first-time, full-time freshmen and do not include transfer students or those who are part-time students, due to limitations of federal data sources.
Making a Difference
Webster's Annual Diversity, Equity & Inclusion Conference
Success by the Numbers
The 2022 DEI Conference included 30 conference presenters including speakers, moderators, and panelists over the course of 12 conference sessions. The conference drew more than 1,900 registered attendees from 21 countries, and 94 different colleges and universities were represented globally. Thank you to our 18 sponsors who allowed the conference to be free to attend.
Attendees to the conference included faculty, staff, students, alumni, corporate partners, and community members from around the St. Louis area. Topics at past conferences have included: hate speech, unconscious bias, gender in the media, how to be a transgender ally, multigenerational workforces, accessibility issues, and immigrant experiences.
Read about our Diversity, Equity & Inclusion Conferences, including summaries of previous conferences.
Resilience Inspires Student Excellence (RISE)
Launched in the summer of 2019, the Resilience Inspires Student Excellence (RISE) program provides educational access and career success for undergraduate BIPOC (Black, Indigenous, and People of Color) students by increasing interactions with faculty, staff, and University support systems, and fostering a stronger sense of community.
Scholarship Guide
Webster is committed to answering unmet needs, and scholarships are key to students' access and success. Typically, 96% of our undergraduate students receive financial aid in the form of loans and scholarship assistance.
Webster Speaks Series
In 2020, we launched a speaker series, "Webster Speaks: Dialogues on RACE, EQUITY and INCLUSION." Since then, it has built an international audience for its frank conversation with local and national leaders advancing these issues.
Webster's "Witnessing Whiteness" Program
The Office of Diversity, Equity & Inclusion, in collaboration with the YWCA, has offered the Witnessing Whiteness program for Webster University's St. Louis area faculty and staff for three years. Currently in its third cohort, Witnessing Whiteness groups voluntarily come together to do work around racism in a supportive, non-threatening setting. It is about learning to speak about race and racism, exploring white privilege, and practicing allying with sisters and brothers of color. The work of Witnessing Whiteness groups draws on the book "Witnessing Whiteness: The Need to Talk About Race and How to Do It," by Shelly Tochluk.
News articles:
Learn More
Founded in 1915, Webster University is committed to ensuring high-quality learning experiences that transform students for global citizenship and individual excellence. Prepare for your next step and explore our community resources.
News and Events
Related News